For booking, call 773-575-7244 or write tom@tomkastle.com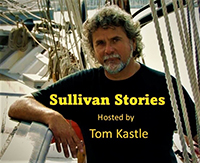 Sullivan Stories Podcast
Stories from the professional crew of the schooner Denis Sullivan. How they got started in tall ships, how they came to sail tall ships and what voyages they're on now. Hosted by actor, musician, and former Denis Sullivan relief captain Tom Kastle.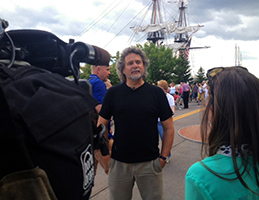 Emcee
Tom Kastle has hosted nautical events such as maritime festivals and tall ship gatherings, and parades of sail in cities from Newport to Los Angeles combining his performing skills with a solid background of years working, hands on, aboard sailing ships. He has the knowledge and experience to consult in matters of maritime folklore and traditions, 19th century ship rigging, and day to day operations of sailing vessels.
"Thank you for being such a creative force behind our entertainment offerings!"
— Sheri Piecuch, Pepsi Tall Ships Chicago
"You were awesome! You made the Parade of Sail come alive. You have a true passion for this stuff that totally comes through. Everyone thought you were great. Kudos."
— Casey Farley, Ocean State Tall Ships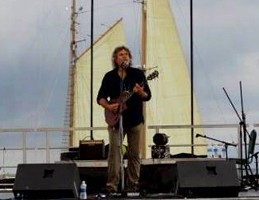 Performer
Tom Kastle has performed maritime music and stories at festivals and maritime institutions throughout the US, from Mystic Seaport to San Francisco, in Europe from the Netherlands to Poland, and in the Pacific in Auckland, New Zealand. He is a co-founder of the Chicago Maritime Festival and taught a class in sea music at the Old Town School of Folk Music for many years. He accompanies himself on guitar and concertina and can muster a small nautical band for any occasion.
"What do you say about a guy who can command a tall ship and all her crew, whose songs can make an Irishman cry tears of pure Tullamore Dew?"
— Bryan Bowers